Glasgow Queen St. to Paisley
2 August 2013
A wee trip to Glasgow after work on a sunny Friday afternoon. Almost all of this 11-mile trip was on cycle paths and included crossing the Clyde on the Yoker-Renfrew passenger Ferry.
Having gone to the trouble of booking a place for my bike on the 17.11 Cross-Country train from Waverley to Glasgow Central (including a typically irritating phone call to their (offshore?) call centre), I discovered the train was cancelled when I arrived at Waverley. Luckily I was able to get on the next service to Glasgow Queen St and there was space for my bike.
The Yoker-Renfrew Ferry runs continually during rush hour (up until 7pm), so I was keen to get there before it reverted back to a twice-hourly service. The train delay, and arriving at Queen St rather than Central, put a little time pressure on that plan, but I figured I still had time to document the trip with plenty of stops for photos.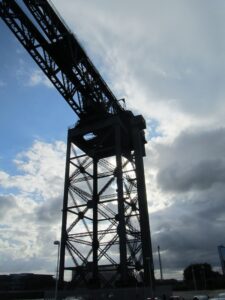 Unfortunately there're only relatively short stretches that actually ran alongside the Clyde – quite a lot of the cycleway is a bit further inland. Although this highly-landscaped section made up for the lack of river views:
After passing the Clyde Tunnel you pass onto what must be an old railway line, and it's an easy pedal along to Yoker, although you can't really see anything of the river. I arrived a few minutes before 7, and the ferry was just making its way across to my side. One cyclist got off, and there were two cyclists (including myself) waiting. I barely had time to fire off two photos en route – one upstream, one downstream, before we arrived on the Renfrew side!
On arriving on the Renfew side I decided to take what I hoped would be a scenic route along the south bank of the Clyde, passing along the boundary of Renfrew Golf Club. Not a bad choice, as the stormy-looking clouds passed overhead and the sun came back out.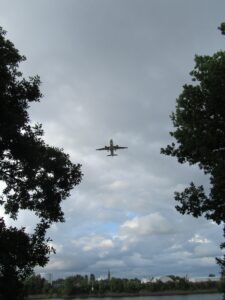 On reaching the corner where White Cart Water meets the Clyde, this bucolic view makes you feel as if you've very suddenly left the city behind. From there it was just a bit of a haul into a headwind past the Airport to reach Paisley.
Here's a route of the map, recorded with my smartphone's GPS.